Wow what a week end...Digiridoo GRand Opening was a fun weekend of challenges, interesting folk and a very serious game of scrap bingo to the death!!!!! many players wanting that special Bingo Blinkie....... Congrats to Sharon who won by a nose and condolences to all those who lost.
The Cyber Crop consisted of 2 fantastic speed scraps, with some amazing layouts being produced by members. The Progressive Blog Challenge provided members with a gorgeous kit. Below is a taste of the weekends sweets. Can't wait for the next cyber crop !!! I want that Blinkie !!!!!
My Layout: Spice of Life Collab Kit from Digiridoo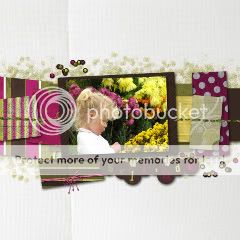 My layout from the first Speed Scrap:
Layout using the Progressive Blog Challenge Kit: Friendship
A Huge Thank you to Vicki from Digiridoo Scraps who was my Saturday Swapper Challenge partner. Vicki created this gorgeous layout of my DD in return I created a layout for her. I love this layout and thankyou sooo much Vicki.
Don't forget to drop by Digiridoo and check out the forum.